Basic Hat blocking Demo at Goorin
Last week we had our usual "Family Dinner"- staff meeting that coincided with a visit from Lindsay Pembroke our Goorin merchandising wizardess and also the unveiling of a commission piece I did for my coworker Elijah. I got to do a blocking demo and basic hat anatomy show-and-tell for my coworkers and Miss. Pembroke took these photos for me with some of the hats I've made – including the fantastically over the top paper peony piece. Elijah, my coworker and also the photographer who conceptualized/ collaborated on the Vogue shoot with me, was looking to add a final dramatic image to his portfolio. He toyed with the idea of making a headdress and I mentioned I'd be happy to make something for him again. He came to me with photos from the Karl Lagerfeld for Chanel Spring/ Summer 2009 Haute Couture show. Gorgeous sculptural paper hats made by Katsuyo Kamo.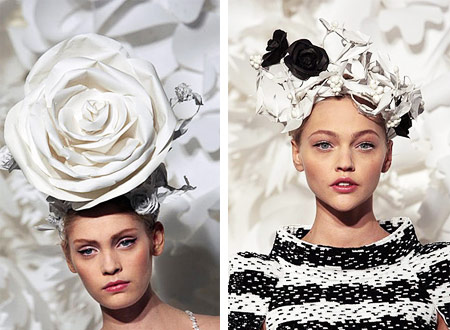 I replied with an image of Alexis Mabille's rainbow of floral headdresses for the January Paris Haute Couture show.


I ended up making a white, semi-translucent peony from hand cut and glued layers of my favorite discontinued Japanese paper. It took two days rush to finish the commission and I'm really happy with how it turned out. It's a perfect blend of my abandoned art practice and my millinery skills. Elijah won't be releasing the photos of his shoot with the hat until after his graduation show this month, but here's a preview among my hat demo photos.

This slideshow requires JavaScript.
Happy Hatting, and as they say at Goorin, "Go Boldly"
~ MF